It is not easy to express your love. This event has always been considered very important in the life of both boys and girls. And, although there are many ways to express your feelings, for most people it is not easy to do so. Of course, the best way to say "I love you" is on a romantic date with flowers and other attributes. We have prepared pictures with beautiful sentences about love for those who are shy or afraid to do it personally for some reason. But let us remind you once again that a beautiful sentence for love is an event that should show how attentively you are to your soul mate. Therefore, the date is better.
Beautiful sentence for love
To the world, you may be one person, but to one person you are the world.  Bill Wilson
Unable are the loved to die, for love is immortality.  Emily Dickinson
Love is a better master than duty.  Albert einstein
What is love? It is the morning and evening star.  Sinclair lewis
Baby, you are all I want when you're laying here in my arms, I'm finding it hard to believe, we're in heaven.
I love you for you, I love you for what I am when I'm with you.
Words are just not enough to tell you how much you mean to me and how much i need you by my side, all my life. You have touched my life in ways others can't even think of.
True lovers don't give and take … They give, and never expect to take anything back. Just like love, in every sense of the word.
I shall take your sorrows and give you my joys. Don't ever leave me, I can't live without you. You are dearer to me then my life, this much you must know, my love.
I have a hand, you have the other, put them together and we have each other.
I understand why you had to leave but I don't understand why you're not coming back.
When I'm with you all my fears disappear. So, I guess if you're wondering what my biggest fear is, it would be losing you.
We love because it's the only true adventure.  Nikki Giovanni
This better to have loved and lost than never to have loved at all.  Alfred Tennyson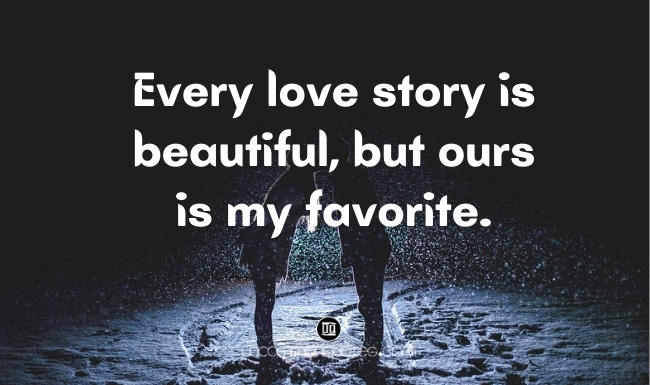 First love is only a little foolishness and a lot of curiosity.  George bernard shaw
Love's gift cannot be given, it waits to be accepted.  Rabindranath Tagore
Genuine love involves not only a passion but also commitment and wisdom.
When love is at its best, one loves so much that he cannot forget.  Helen Hunt Jackson
It was love at first sight, at last sight, at ever and ever sight.  Vladimir Nabokov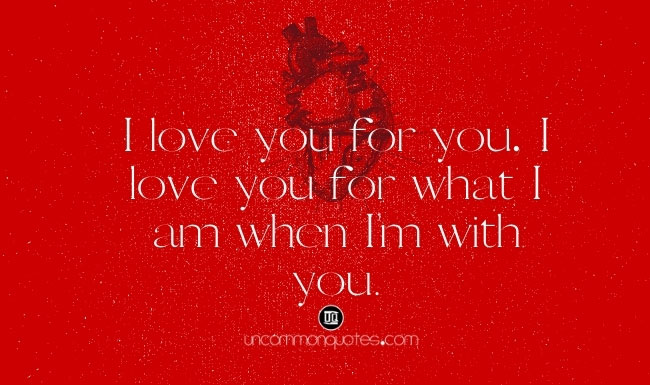 Every love story is beautiful, but ours is my favorite.
We accept the love we think we deserve.  Stephen Chbosky
Love harder than any pain you've ever felt.
If I know what love is, it is because of you.  Hermann Hesse
Love loves to love love.  James Joyce
You have found true love when you realize that you want to wake up beside your love every morning even when you have your differences.  Unknown
Love yourself first and everything else falls into line. You really have to love yourself to get anything done in this world. Lucille ball
Love has nothing to do with what you are expecting to get only with what you are expecting to give which is everything. Katharine Hepburn
I love your feet because they have wandered over the earth and through the wind and water until they brought you to me. Pablo Neruda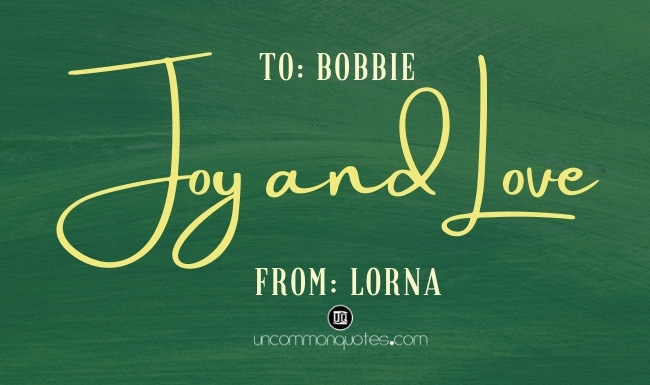 I love you and that's the beginning and end of everything.  F. Scott Fitzgerald
You are the source of my joy, the center of my world and the whole of my heart.  Unknown
Sweet is true love that is given in vain, and sweet is death that takes away the pain. Alfred Lord Tennyson
Pictures with beautiful sentences about love are bright and funny. The most amazing and pleasant words of love are already selected on the greeting cards. Beautiful love announcement will make your beloved man happy. After all, it will remind you of your feelings and will bring back to your memory all the best memories associated with you.
Not everybody likes to see their love for them publicly. But the picture with the inscription "I love you very much" is able to please the ego of the beloved person without extra publicity. And we are ready to offer you a lot of options for pictures with beautiful sentences about love, from the simplest to incredibly beautiful. You will only have to choose the card you like.
Many people often have difficulties with how beautiful and original to say how beautifully and originally to confess their feelings, how to sincerely say warm and gentle words. Unfortunately, often everything turns out somehow confused and banal. So a picture with a love confession can be the beautiful and original gesture that will not make you very nervous.
But let's remind you once again that there are millions of ways to gently and beautifully confess to your light feelings (and even so that not to get rejected). It is desirable to approach this issue with the soul and intention to do pleasantly to their soul mate. And this ideally involves the physical presence of the person. A picture with the I love you so much quotes" is a way to remind you of what your heart is still silent about. So if you have the opportunity to meet – go on a date…
Of course, it happens that love breaks your soul and the feeling of anxiety prevents you from choosing the right words and, most importantly, to say them… Perhaps you will find the right declarations of love in these pictures with declarations of love.
Remember that a person is happy only when he loves and loves. At such moments wings grow behind your back. Love is the eternal engine of life. And if you are lucky in life, because you have met your love, you should not be afraid. Tell us about your feelings with the help of a picture with a declaration of love. By the way, we also have pictures with inscriptions, with which you can express how much you miss your soul mate.